Yesterday and today I had the privilege of attending the Ohio Council for Social Studies State Conference for the fourth time.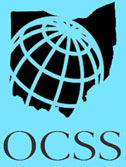 As I realized this, I did a little reflecting on my previous experiences...
In the spring of 2006, I attended and presented as an undergrad. My amazing and inspiring professor, Dr. Jim Sheehan encouraged me to attend with a group of peers. I'm not sure we shared anything ground-breaking in our panel discussion presentation, but talk about a good way to get your feet wet with being involved in a professional organization!
In the spring of 2010, I attended with a few Mason colleagues, including my one-and-only mentor, lovingly referred to as "Mamasita" (read more about my mentor and her words of wisdom
here
). We didn't have the *best* attendance to the breakout sessions that year, but it did remind me that half of the fun is networking and bonding with colleagues.
Last year, I joined two Mason teachers from the upper grades and loved getting to learn alongside them. Read more about that experience
here
.
This year was my favorite trip so far.
I got TONS of new ideas that I'll be sharing soon, mostly from David Harms, who teaches at Penta Career Center in Northwest Ohio. His presentation on flipped instruction is available
here
. I can't WAIT to use some of his cool apps and tech ideas.
In addition, I enjoyed presentations from some of my favorite colleagues, including one on the new C3Framework and one on a new module for OCSS resource sharing.
I also thoroughly enjoyed the experience of presenting. This time, I definitely knew my stuff a bit more than as an undergrad, and had the benefit of representing the
Ohio Writing Project
.
I shared some of the work I have done with OWP on integrating reading and writing into social studies, including lots of strategies like VIP notes, ranked reading, one-word notecards, It says/ I say notes, and text sets. We jam packed that 100 minutes!
Best of all, I had several attendees tell me later that they learned a strategy to use right away from my presentation. Wooot!
This year, there was also a very moving tribute to Dr. Jim Sheehan, the professor I mentioned earlier who first got me involved in attending the OCSS conference. Dr. Sheehan passed away in 2008 after a battle with cancer. This year an award has been named in his memory to help get new social studies teachers involved in OCSS and encourage them as future leaders.
It really made me realize how much I owe to those educators who have shaped my path to becoming a teacher. I miss you, Dr. Sheehan! Thanks for all you taught me and so many others.